The Truth Bookroom Podcast
Everything you need for life and more!
The Truth Bookroom podcast is meant to help you to know and experience the Bible truth through the most enlightening and inspiring writings of Watchman Nee and Witness Lee.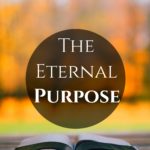 Content: Chapter 7, The Normal Christian Life by Watchman Nee     What is your purpose? The God of the universe reveals His purpose to us through His word. In chapter 7 of The Normal Christian Life, Watchman Nee gave us a further explanation of the eternal purpose of...